Preparations
The sluggard does not plow in the autumn;
he will seek at harvest and have nothing.
Proverbs 20:4
One of the big things I learned from one of my first mentors was "Proper preparation prevents poor performance." God, in his grace, brought us back to the States before we experienced much poor performance. Doing the hard work up front enables us to perform at a higher level later. Two-a-days in the heat of Summer pays off in wins for the football team in the Fall. Hundreds of miles of training runs equals a successful marathon and probably a PR. Hours spent studying vocabulary means a smoother trip overseas. A pattern of obedience in small things helps us choose the right thing in the face of difficulty or temptation.
As I have said before, what we are doing now does not feel like it is fulfilling our missionary calling. After all, we are "suffering for Jesus" in Coronado, CA.
But, we are building a foundation from which we can more effectively serve in the coming years. When we left last year, we weren't nearly as ready as we needed to be. Work obligations kept us from doing all that needed to be done in order for us to leave the country for 3-5 years. We really have benefitted from this unplanned return. Of course, God knew what it would take to convince us to bring the boat all the way back here for six months.
The primary purpose of our return was my VA disability claim. My pre-discharge claim was cancelled (rather than the VA being delinquent on their 90-day requirement). So, I re-initiated everything in May. This month I had appointments for my sleep apnea, hearing loss and tinnitus, had some pre-cancerous spots taken care of and began physical therapy for my hips, neck and back. Just this week, I received my disability rating of 80%. I had no idea how broken I was. It is a little encouraging in that I don't have to feel so guilty when I just can't make myself play with the kids because I don't feel well. At the same time, 80% disability sounds like I am 80% disabled! That is humbling. The VA concurs that my bad knees, hips, ankle, neck, migraines, TBI, hearing loss, etc. are the result of more than two decades of military service. In any case, that's a big check in the box. Technically, I am now officially a disabled veteran. :-/
Speaking of medical issues, another reason for us to return was the probability of Brandy needing a hysterectomy. After consultation with her doctor, we opted for a hysteroscopy, a procedure that would take a closer look and help determine if a hysterectomy was really indicated. She had the procedure in the beginning of the month. The doctor found an area of interest and biopsied it. Results came back and Brandy was given the green light. No hysterectomy needed, follow up with a regular exam in a year. Praise the Lord!
After medical issues, we have been focused on developing our support network. Even though we are not "in the field,"our financial needs are probably greatest right now. Once we leave, most of our expenses will be things like insurance, fuel, rental cars to get to missionaries, the occasional marina and saving for repairs. A common conservative estimate is that you should plan for 10-20% of the boat's value for annual maintenance. For us, that is about $15,000-$30,000 a year. Right now, we are knocking out some pretty major (expensive) projects that will allow us to leave behind the conveniences of half a dozen
West Marine
's within 25 miles and more real chandleries and highly skilled marine craftsmen that we can shake a stick at. We know that we have a $10,000 standing rigging job waiting for us in New Zealand, so we need to plan for that. We are currently about 25% funded of our $3000 monthly goal. Right now we have $430.41 in our ministry account with $1715.35 of ministry expenses sitting on a credit card. (If you would like to help, you can give online
here
: – select "Dennis Kelly Ankyrios Mission" from the dropdown. Also, we have an
Amazon wish list
if you wanted to purchase something for us.)
Many issues surfaced while we were in Mexico. First and foremost, our battery bank is severely deficient. We had a consultation by an
electrician
this week. As nice as it would be, LiFePO4 batteries are not in our future (unless a generous donor wanted to help out with a $15,000 donation). So, for about a third of the price, we will be installing 765 Ah of
AGM batteries
as well as larger alternators and a regulator to ensure that we don't kill the new batteries. He also looked at our solar array and will be coming back to help us investigate why we are only getting about 50% out of our panels.
In a couple of weeks we are going to have to haul the boat out of the water for new bottom paint ($2200), all new through-hulls ($400 / through-hull x 9) and repairs of the port sail drive ($900). We would do the through hulls, but the yards around here won't let you do any work below the waterline in their yards (probably some union thing). On the "cheaper" side, we were able to do much work ourselves this month. Our shift cable broke (while trying to anchor – not a great time, but at least the anchor was ready to let go and the anchorage wasn't too crowded) and I was able to jury-rig a solution (temporary). I climbed the mast to fix a shorted out anchor light (at anchor in a busy anchorage – probably as much fun as any amusement park ride I've done).
I've troubleshot and repaired a water leak and a water pump issue. I have been investigating a number of electrical issues (thus the electrician visit). Both vehicles were in the shop this month ($900 on the truck for suspension and A/C work!) and I ended up doing about $1200 dollars of work myself (brake booster on truck went out, brake job on the car). There is always something to fix around here.
It isn't all about working on the boat, we have been busy with ministry as well. Brandy is actively involved in two ladies' Bible studies. I have gotten plugged in to the
Coronado Men's Connection
. We have both been mentoring and discipling some younger brothers and sisters. I have been handyman-on-call for the church as we have been sprucing up the place and most of the men in the church have like jobs or something. The kids attended Vacation Bible School last week and this week as well as youth for the older three. Hope has gotten some one-on-one time with an older girl she looks up to. Just today she headed off for high school youth camp for a week thanks to a generous scholarship from the church.
I have been doing quite a bit of research for my doctoral project. I had intended to spend this year writing it, but we have been a little busy. I am developing a program to help reinvigorate missionaries and pastors, or really any believer, who are on the verge of burnout and losing their passion and love for the Lord. Rather than the tired "try harder," "fake it till you make it," "just pray more" kind of Sunday school answers, I am looking outside the walls of the church for scientific support for spiritual disciplines. I am not saying that the Bible is insufficient, by any means, but I am saying that science supports biblical truth. People who know the Bible sometimes have a hard time hearing what it says to them. Things like
neuroplasticity
and
neurogenesis
(Romans 12:2 – renewing the mind),
epigenetics
and
gene activation
(Exodus 20:5 – generational curses), and collaborative intelligence and learning (Acts 2:42 – devoted to teaching, spiritual gifts and fellowship). I've been listening to tons of TedTalks and
MetaLearn.net
podcasts while I work on the boat (multi-tasking).
We've also had some fun. We won tickets to Comic-Con and Hope and I both dressed as Captain America.
The other four got in free and they all dressed as Yu-Gi-Oh characters.
Because we acted as a picket boat to keep other boats at least 900 feet from the fireworks barge, we had front-row seats to the
Big Bay Boom.
Brandy and the kids thoroughly enjoyed cat-sitting for our friends with 2 cats and 3 little kittens.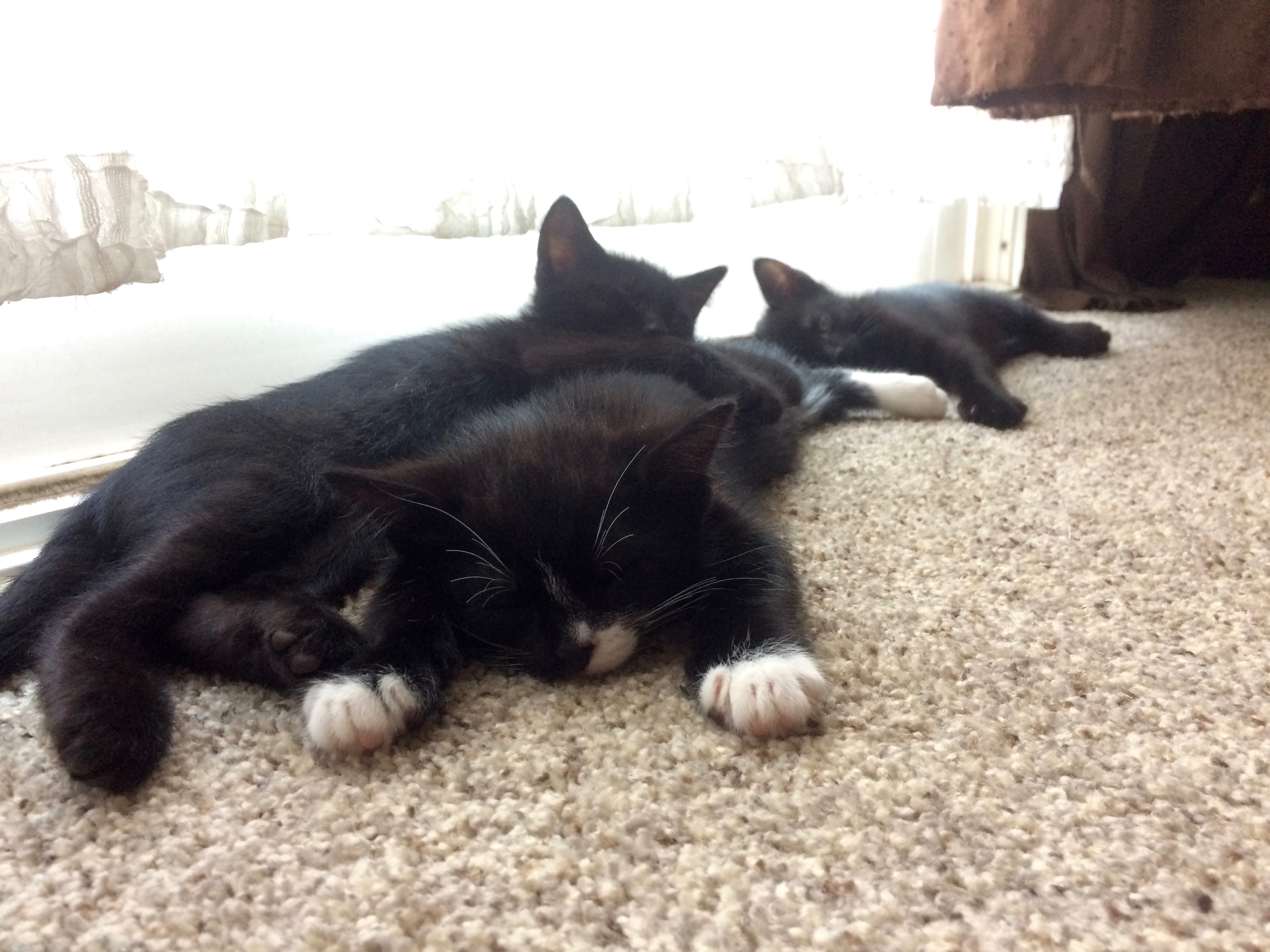 We had a great visit with some friends, Rodolphe and Stephanie Jourdan from 20 years ago who used to live on a boat.
We had our friends Robert and Cheryl Bradshaw out for a sail. We forget that this life isn't routine for most people. We were just moving the boat like we always do, but the Bradshaw's had a good time.
Next month we will no longer have Fiddler's Cove Marina as an option. We were just informed that there will be no vacancy for us after 01 August. We have a good lead on a place we can take the boat that should be cheap to possibly free! It should also allow us to leave the boat for extended periods, allowing for a trip East before we head south again in November. We are looking forward to some more fun and practical training. The middle two weeks of August, we will be dog-sitting, which will give us time to pull the boat out. After that, we are planning a 10-12 day trip around the Channel Islands. We have to be back by the beginning of September because I have been invited to preach the whole month of September. We are also looking into the feasibility of my taking a wilderness EMT course. The course is pretty expensive and takes a month, but it would be nice to have the training for our missionary work.
This has been a lengthy post, but a month is a long time. If you've read this far, thank you for your dedication. Once again, I will try to do better about posting more frequently. God bless you all. If you don't mind, comment on the post so we can get a sense of who's seeing this and so we can pray for you. Blessings and peace!